Coffee shops are popular worldwide, and to stand out in a crowded market, owners and entrepreneurs need a well-designed website. Coffee Website Design should reflect the shop's personality and atmosphere. Moreover, make it simple for customers to locate information. It should be easy to use, respond quickly, look nice, and be optimized for search engines.
In this blog post, we'll explore the world of coffee website design. We'll look at the elements that make a great coffee website, from colors and typography to layout. Read on to learn the secrets of a coffee shop website and boost your online presence, whether you're a tiny local coffee shop or a major franchise.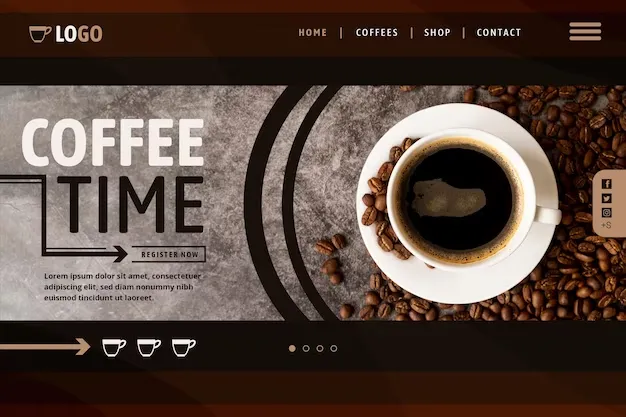 key elements of a good coffee website design
The most effective coffee shop website designs combine simplicity, elegance, and usability to establish a strong online presence.
Simple and clear navigation structure. Your website should be simple to use and navigate so that visitors can swiftly locate the information they seek. The layout should be simple and uncluttered, with navigation menus that are clear and concise.
The color scheme is warm and inviting. Your website's color scheme should be warm and inviting to reflect the ambiance of your coffee shop. Utilize light hues and natural tones to create a soothing and inviting environment.
Images and videos of superior quality. Images and videos are an excellent way to promote your coffee shop and its offerings. Utilize high-quality, brand-relevant images and videos to attract the attention of website visitors.
Compelling content. Your website's content should be engaging and inform visitors about your coffee shop, its products, and its mission. The content must be well-written and informative, as well as simple to peruse and scan.
Websites should feature prominent call-to-action icons for store, purchase, or newsletter engagement. The icons should be simple to locate and activate, and they should clearly indicate the desired action. The easiest way to begin is by evaluating various icon designs on a handful of landing pages. The next step is to determine which icons convert the best.
The above are some of the key elements that make up an effective coffee shop website design.
A neat and simple layout
The best coffee website designs have a clean, simple layout. A well-designed website should be visually appealing but also user-friendly.
Simple and intuitive layouts help visitors find what they need. A cluttered or confusing layout can be a major turn-off for potential customers, leading to a high bounce rate and lost sales.
Take inspiration from the best cafe website designs out there and create a layout that is both aesthetically pleasing and easy to use.
This will ensure that your website not only attracts but also retains visitors.
Warm and inviting color scheme
When making the best coffee website design, you shouldn't forget about the color scheme. A warm and inviting color scheme can make people feel comfortable and at ease. Which is exactly what people are looking for on a coffee website. A room can feel cozier when decorated with browns, oranges, and yellows. Not only do these colors look good, but they also make you think of coffee and comfort.
Adding a splash of a different color can also give a design more depth and visual interest. So, when making the best coffee website, don't forget the power of a well-thought-out color scheme.
High-quality images and videos
Visually appealing content will enhance your cafe website's appearance and help you connect with your audience emotionally. High-quality pictures create feelings of warmth, comfort, and enthusiasm. Don't underestimate the power of great photographs and videos to create an outstanding experience for your visitors on your coffee website.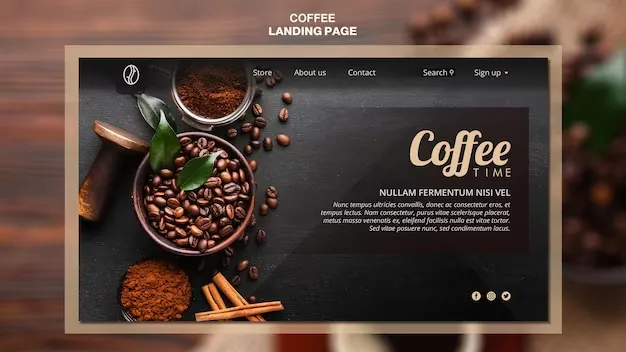 Compelling content
The secret to creating the best website design for coffee is to develop captivating content. On your website, coffee lovers should be able to learn about, discover, and connect with your brand. This requires high-quality, interesting, and informative content. Your website should tell your brand's story, showcase your products, and demonstrate your coffee expertise. You'll develop a coffee community around your brand and become an industry thought leader. Hence, write intriguing coffee website content without constraint. They're waiting!
In conclusion, the finest website design for coffee requires time and effort. And a full understanding of the audience's preferences. To create a visually appealing website that keeps visitors on it, choose the right color palettes, typefaces, and graphics. Your coffee house website content should be informative, engaging, and simple to comprehend. 
You can create a coffee website that attracts coffee lovers worldwide by following this blog post's advice.
A great coffee website design is the best way to share your enthusiasm and knowledge. Start now!