Do you struggle to grow your business? Are you having trouble updating and managing your website's content? You need a CMS website design service to improve content administration and enhance productivity. At our CMS website design agency, we offer a range of services that cater to the unique needs of your business, including content marketing.
In this blog, we'll explore the various benefits of CMS development services, including how they enhance content strategy, overcome PPC challenges, and stimulate business growth. We'll also delve into the advanced features of our CMS website design agency solutions, such as integrated marketing capabilities and multilingual support.
Join us as we unveil the spectrum of our CMS development services and discover how they can transform your digital presence in the marketplace.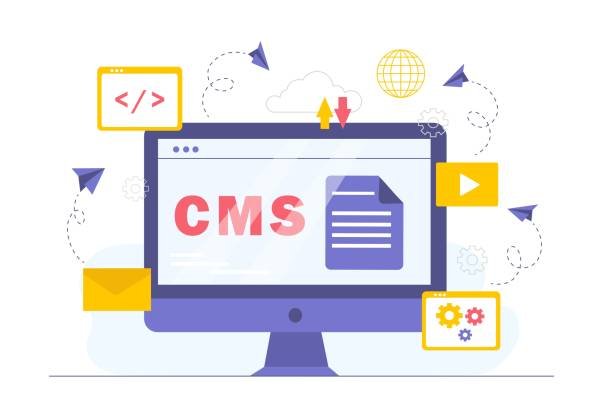 Highlights of our CMS Website Design Agency
A customized website is the foundation of every successful online company. Web design may be customized to match your company's needs, optimizing your website for user experience and search engine exposure.
This involves SEO optimization, including inbound marketing, which may boost your website's visibility on Google. Integration of CMS website design agency, with current systems may potentially alter the game.
Improve content creation and management to focus on other business tasks. Web design can boost user engagement and conversion rates with customizable landing pages.
Advanced email and social media integration may further improve your target audience's experience. Businesses need effective marketing tactics to grow and survive in the digital era. These tools may help you build a consistent online presence that boosts traffic, conversions, and income.
Meeting your business needs
Our CMS solutions are tailored to your specific industry requirements, offering personalization options for a unique online presence. Custom workflows streamline content management processes, while our modular approach ensures easy scalability and integration with third-party tools for enhanced functionality.
As a HubSpot website agency, we specialize in creating websites that not only look great but also drive traffic and generate leads.
How we manage content
Our approach to content management revolves around a user-friendly CMS interface for effortless content editing. We offer efficient content publishing and scheduling capabilities, along with robust version control to maintain accuracy.
To collaborate with multiple content contributors is seamless, and integration with analytics tools enables measurement of content ROI and new features.
How CMS Development Services boosts productivity
Businesses aim to maximize productivity. CMS Development Services offers streamlined workflows, centralized content management systems, and intuitive user interfaces. Automation and mobile content management maximize productivity by eliminating manual labor.
CMS streamlines workflows.
The use of software-as-a-service (SaaS) solutions has made important tools more affordable and available for businesses of all sizes. These tools include automatic approval steps that make content go live faster. Templates for content and parts that can be used again help keep the same look for a brand. Connecting with project tools also makes it easier for people to work together. It's also simpler to change content for different places and languages, so more people around the world can understand. Getting quick notifications also helps manage tasks better.
Content strategy improvement with CMS
The HubSpot CMS offers several tools to assist businesses in creating and managing content effectively. These include crafting content tailored to customer journeys and personas, making content more personal for users, testing different versions (A/B testing) and using data analysis to improve content performance. It also includes tools to improve search engine rankings (SEO) and connects with social media for easy content sharing.
Meaning of CMS quality content
To attract potential customers, you need to write content that is interesting and useful. Content that matches user intent and search queries improves search engine visibility. Interactive multimedia enhances the experience. Analytics continue to improve content strategy.
Making CMS content engaging
Creating engaging content for a CMS website design agency requires using storytelling methods, including important keywords for SEO, arranging content for easy reading, including images, and keeping a consistent style. This makes the audience more interested, improves how search engines find the content, and makes it easy for people to understand.
The role of content in driving business growth
Content growth in web development requires thought leadership, trust, leads, and customer relationships. Web development experts can attract and engage target audiences and grow businesses.
What CMS does for PPC mistakes
Few PPC campaigns have proper tracking and analytics, making success difficult to measure. Campaign management wastes ad spend, and landing pages experience lower conversion rates.
Low click-through rates and inconsistent messaging and branding across PPC campaigns and websites can confuse potential customers. CMS web design firms offer analytics, campaign management, optimized landing pages, and targeting.
Working with CMS to overcome PPC
Improve advertising ROI with CMS integration and PPC optimization. Increase PPC with CMS's advanced tracking and analytics. HubSpot CMS simplifies PPC content management for better targeting and personalization.
Success with CMS for online marketing
Use a CMS website design agency to simplify online marketing. Improve SEO by seamlessly creating and editing content. Well-designed CMS websites attract and engage users. Use landing pages and email marketing to boost conversions. CMS integrations with social media expand reach.
Discovering our CMS Development Services
Discover custom CMS web design for your business. Easily integrate our CMS development services into your systems. Use user-friendly CMSs that focus on SEO. Our CMS expertise enables tailored client journeys. Stay ahead of the competition with advanced CMS features and modules.
Secure CMS Development
Take strong precautions to secure your website from cyberattacks. Stay updated with regular CMS security updates and patches. Ensure robust user authentication and access control. Trust our team for secure hosting and maintenance of your CMS.
Custom CMS Solutions
Customized CMS for your company
Customize and enhance CMS.
Help teams manage content using straightforward processes.
smooth custom features and third-party integration
Flexible customization lets you scale CMS as your company expands.
CMS Migration and Update
Install a modern, feature-rich CMS on your website easily. Ensure data migration and content transfer during the update. Keep up with CMS upgrades and use our experience to minimize interruptions. Secure your website with the newest CMS.
Mobile CMS
Responsive CMS website design agencies optimize mobile websites. Mobile-friendly CMS for a great user experience on all devices. Mobile CMS lets you edit your website anywhere. Mobile-optimized CMSs improve SEO and exposure. Access prospective consumers anytime, anywhere, with a mobile-ready CMS website.
CMS support and maintenance
Ensure smooth operation and performance of your CMS with our prompt troubleshooting and issue resolution. Stay updated with the latest CMS features and security patches, benefit from regular backups and disaster recovery planning, and have peace of mind knowing your CMS is in expert hands.
Power of CMS in the digital market
Discover how a CMS website design agency revolutionizes your online presence and marketing efforts. Harness its power to drive business growth and customer engagement. Stand out with a professionally designed website, streamlined content management, and data-driven decisions for success.
Websites using content management systems (CMS)
Using a content management system (CMS)-enabled website, you can position your company as a market leader. Take advantage of the CMS's tools and features to make content that people will want to share. Enhance search engine rankings with SEO-friendly URLs and metadata. Drive organic traffic and conversions with optimized landing pages. Stay ahead of the competition with regular content updates and fresh website features.
Enterprise CMS services transform businesses.
Enhance your online presence and expand your business globally with a CMS website design agency. Improve content management with simple interfaces and workflows. Grow your business with SEO, advanced CMS, and customer acquisition.
Advanced features of our CMS solutions
Leverage powerful SEO capabilities to boost your website's visibility and drive organic traffic. Expand your market globally with multilingual support. Easily manage and edit your website content through user-friendly interfaces. Enhance customer engagement with personalized experiences and targeted content. Utilize integrated marketing tools for email campaigns, social media integration, and more.
Integrated marketing and SEO capabilities
Enhance your website's visibility and attract more customers with advanced SEO capabilities. Seamlessly integrate your CMS with email marketing and social media tools while measuring the success and ROI of your marketing efforts using built-in analytics. Implement personalized content strategies to drive conversions and stay ahead of the competition with SEO-friendly URLs and optimized landing pages.
Multilingual support for global outreach
Translate content to promote your business globally. Improve the user experience with better switches and localized content, and engage customers with language-specific content for global audiences. Easily manage and update multilingual content with a user-friendly CMS interface.
How can CMS stimulate your business growth?
CMS powers exponential corporate growth. Optimize your website for search engines, make it user-friendly, and provide tailored content. Stay ahead of the competition, streamline content management, and maximize company potential.
Conclusion of the CMS website design agency
CMS website design agencies may promote company development with unique features. Their content management strategy improves processes and content strategy, which drives corporate development.
The company creates interesting CMS content, and by using CMS for online marketing, you can avoid the common pitfalls of PPC campaigns. With secure CMS development, custom CMS solutions, CMS migration and update services, and mobile CMS capabilities, the agency provides a comprehensive range of CMS development services to meet all your requirements.
CMS website design agency
They also incorporate advanced features such as integrated marketing and SEO capabilities and multilingual support to further stimulate business growth. A CMS website design agency can boost your business's digital marketplace presence.
They will work with you to understand your needs and provide customized solutions to help you reach your goals. The right agency can boost conversions, online presence, and competitiveness.
READ ALSO: 4 effective steps to have the best custom WordPress website design for your website